Bema Love Bio: Series with roucou oil. Say goodbye to damaged hair!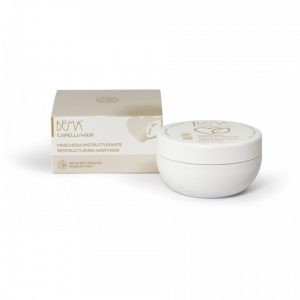 Dry, damaged, colour-treated, bleached hair that requires specialised care. It should be constantly moisturised, nourished and protected from the effects of harmful external factors and mechanical damages. 
Regeneration and strengthening of such hair type must begin with selecting the proper shampoo – an to improve its effects – choosing appropriate hair conditioner or mask. 
Such cosmetics can be found among products from Bema Love Bio. The brand released a special shampoo and hair mask enriched with roucou oil. It is an oil that provides amazing properties, such as: regenerating, moisturising and protecting from damage. Roucoi oil also slows down ageing processes, and ensures amazing brilliance and resilience.
Bema Love Bio Shampoo with roucou oil is a 200 ml of product that comes in a white bottle. It is designed for extremely damaged hair, weakened by colour-treating or frequent styling with the use of high temperature. Roucou oil contained in the shampoo care for scalp, provides regeneration and shine. The shampoo lathers well and delights with its scent. After using it regularly, your hair will enhance the colour of your strands. You can be sure that the cosmetic will protect hair from the root to the ends. Sunflower seed oil improves the work of roucou oil when it comes to regeneration, moisturising. What is more, this oil not only conditions hair but also creates a microscopic protective film responsible for protecting strands. It is worth mentioning that the components used in the cosmetic are of natural origin – they do not contain any artificial dyes or substances such as: SLS, SLES.
The effect of this amazing shampoo and be strengthen with hair mask from the same cosmetic line. The mask comes in a capacity of 200 ml in a white, plastic jar. Its natural components allows us to apply it not only on hair but also on scalp. Roucou oil contained in the mask will moisturise and regenerate scalp. It will penetrate deeply into hair bulbs, preventing hair from falling out and making them grow stronger and thicker (roucou oil also slows down the effects of skin ageing). The product should be applied to damp hair, right after washing. Perform a short scalp massage and rub it on hair with a special emphasis on the ends. After about 5 8 minutes, rinse it off with lukewarm water. To achieve desired effects, the product must be used at least once a week.